<![if !vml]>
<![endif]><![if !supportEmptyParas]> <![endif]>
<![if !supportEmptyParas]> <![endif]>
<![if !supportEmptyParas]> <![endif]>
<![if !supportEmptyParas]> <![endif]>
<![if !supportEmptyParas]> <![endif]>
<![if !supportEmptyParas]> <![endif]>
<![if !supportEmptyParas]> <![endif]>
<![if !supportEmptyParas]> <![endif]>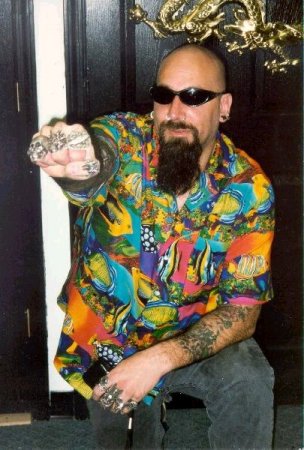 Mike "The Mysterious Benefactor" Krango
<![if !supportEmptyParas]> <![endif]>
Gone too soon<![if !supportEmptyParas]> <![endif]>
<![if !supportEmptyParas]> <![endif]>
I had just finished writing the original Body Shots intended for this space when I heard the tragic news of Mike Krango's untimely death. I was going to go ahead and post my original column, but I just can't sit back and not talk about a guy who I considered a good friend in this business.
<![if !supportEmptyParas]> <![endif]>
Where do you start with Bene? I figured I could talk about his stints outside of wrestling, like appearances on the HBO programs 1st and Ten, or OZ. Maybe I could tell you he was frinds with Jefferson Airplane and toured with them a bit. I could do that, but I wouldn't be able to tell you much. That's because I din't meet Benefactor until he got involved in wrestling here in Georgia. I remember our first meeting very well. It happened at the Marietta National Guard Armory, he had been talking to Don Lewis about wanting to get back into wrestling. He made his first IWU appearance that night in Marietta. We didn't know what he was going to do at first, the only thing they had planned was that he was going to be a manager. They first paired him with Silent Terror (Randy Mundy and Bo Dacious), it was an awesome pairing, but I don't think it ever got over as well as it should have. Eventually he went on to manage the ODD Squad. Benefactor was the ODD Squad. It was a group of guys who were so called outcast from society. Bene was odd, but far from an outcast. He left the IWU and soon hooked up with Iceberg managing him in several promotions. He would go on to form another super group, the DDS. Bene's unique mangerial style will always be remembered. His maniacial laugh, his taser, his tattoos, and the very freaky rings, his look will never be duplicated. However when Bene left the building, there was Mike Krango. Krango was a great guy. He was always making me laugh, and I always admired the tattoos he did for the boys. He was an awesome tattoo artist. I didn't spend alot time with him outside of the wrestling, but what times I did talk to him, it was awesome and I will always cherish them. I think the one moment I will always cherish with him though came just a couple months ago. It was in Dublin, Georgia at a GPW event. Johnny Grunge was running late and he and Bene were scheduled to do a spot with DL Norris. When Grunge said he was going to be about a hour late, Bene stepped up to the plate and asked me if I wanted to do it. Outside of some play by play work we did several times, it was the first time we worked any kind of an angle together. I had a blast and I am just glad that I have it on tape. Thanks for everything you've ever done Bene, R.I.P.
Just to add a little something. It has been 3 months since Bene's passing and I have decided to leave this Body Shots up in his memory. I just wouldn't feel right writting about anything else in this space. So Bene, this one is for you my friend, and once again thank you!!!